~1950's Deviled Eggs~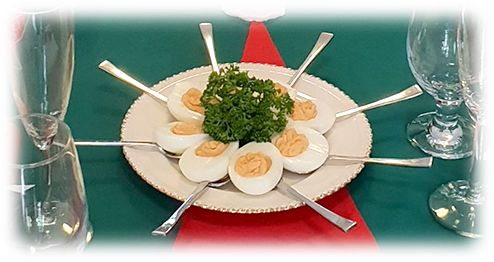 Even though I can't eat eggs myself, I made this recipe for a party once and my friends all said they were delicious!
Makes: 8 eggs

Ingredients:

4 hard-boiled eggs

1 tbsp Sweet or India relish

1 tbsp Heinz ketchup

1 tbsp Mayonnaise or Salad Dressing

1/2 tsp Heinz Mustard

Salt and Pepper to taste

Cut eggs lengthwise and remove the yolks into a separate bowl.

Mash the egg yolks then mix in the other ingredients.

If your yolks are too chunky you can put the mix in a blender to get a smoother consistency.

Refill egg whites with mixture; I like to use a small piping bag or a plastic sandwich bag with the corner cut off.

Chill until ready to serve.

You can also make the eggs and yolk mixture the night before, just cover whites with plastic wrap and seal yolk mix in a resealable bag then store in refrigerator until the day-of.